Although being a pregnant woman is a wonderful adventure full of excitement and joy, it also causes many physical changes in a woman's body, including changes to her clothing requirements. Finding pregnant apparel that not only supports these changes but also allows you to show off your individual style is crucial as your belly expands and your body changes. This parenting blog will examine the world of maternity fashion and provide advice on how to build a chic and practical wardrobe for this unique time.
Comfort is a key factor to keep in mind when choosing maternity apparel. Comfort needs to be the main concern because your body is going through a lot of changes. Choose clothing made from supple, permeable materials like jersey, cotton, and bamboo. You will be able to keep cool and cozy all day long with the aid of these materials. To adapt your shifting shape, take into account clothing with stretch and adjustable elements like elastic waistbands and drawstrings.
Building a versatile maternity wardrobe starts with the basics. Consider investing in a few key pieces that will serve as the foundation for your outfits. Some must-haves include:
a. Maternity Jeans: Support and fashion are both provided by a decent pair of maternity jeans with an expanding belly panel or side panels. They are a versatile addition to your wardrobe because they may be dressed up or down.
b. Leggings: A pregnant woman's best friend is comfy, flexible leggings. They can be paired with tunics, skirts, or baggy sweaters for a stylish yet cozy appearance.
c. Maternity Bras: As your body changes, it's crucial to have supportive bras that fit correctly. Look for maternity bras with adjustable straps and soft, breathable fabrics.
d. Maternity Underwear: Comfortable underwear with a supportive waistband will keep you feeling at ease throughout your pregnancy.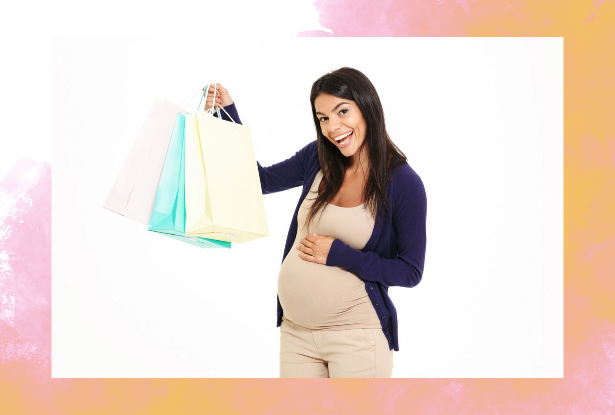 Maternity dresses are a wonderful addition to your pregnancy wardrobe. They offer both style and comfort, allowing you to feel beautiful and put-together no matter the occasion. Maxi dresses, wrap dresses, and A-line dresses are popular choices as they provide room for your growing belly. Look for dresses with empire waistlines or adjustable ties to accentuate your changing shape.
Layering is an excellent way to expand your outfit options without investing in an entirely new wardrobe. Lightweight cardigans, blazers, and kimono-style tops can be paired with basic maternity tops or dresses to create different looks. Layering not only adds style but also allows you to adapt to changing weather conditions.
Gone are the days when pregnancy clothing meant oversized, shapeless garments. Modern maternity fashion celebrates the baby bump. Opt for fitted tops that highlight your bump, and don't be afraid to try form-fitting dresses that showcase your curves. Accentuate your newfound glow and confidence during this special time.
Staying active and comfortable during pregnancy is essential for both your physical and mental well-being. Invest in maternity activewear that offers support for your growing belly. These pieces are designed to stretch and move with you, whether you're going for a walk, practicing yoga, or simply running errands.
Shop Secondhand or Borrow
Maternity clothing is often worn for a relatively short period, so it can be more sustainable and cost-effective to shop secondhand or borrow from friends and family. Look for maternity clothing swaps or online marketplaces where you can find gently-used items at a fraction of the price.
Your pregnancy wardrobe should reflect your lifestyle and personal style. If you have a professional job, invest in a few stylish maternity workwear pieces, such as tailored pants and blouses. For a more casual lifestyle, focus on comfortable and versatile pieces that suit your everyday needs.
While you're shopping for maternity clothing, it's also a good idea to plan for the postpartum period. Consider purchasing nursing bras, nursing tops, and loose-fitting, comfortable postpartum clothing that will accommodate your changing body after childbirth.
Have Fun with Accessories
Accessories are a great way to add personality and style to your maternity outfits. Scarves, statement necklaces, and comfortable flats or low-heeled shoes can elevate your look and make you feel put-together, even when you're keeping it simple with basics.
Conclusion
Your clothing should represent the journey you are on during pregnancy, which is a period of change and growth. You may build a fashionable and cozy maternity wardrobe that will help you feel confident and beautiful the entire time you're pregnant by putting comfort first, spending money on essential items, and accepting your changing body. Remember that maternity clothing doesn't come in a one-size-fits-all manner, so pick for items that complement your individual sense of design to further enhance the special occasion.