Bathing your child is a great way to build a relationship with them, promote relaxation, and keep them clean. If you're a first-time parent then this gentle parenting blog will lead you through a step-by-step lesson for newborn bathing, making sure that both you and your child have a safe and enjoyable experience.
Before You Begin: Preparation is Key
Gather Supplies:
Make sure you have everything you need within arm's reach:
Mild baby soap or cleanser
Soft washcloths
Baby bathtub or sink insert
Hooded towel
Clean clothes and diapers
Cotton balls (for drying creases)
Gentle lotion (optional)
Choose the Right Time:
Pick a time when your baby is calm and not hungry. Avoid bathing when they're too tired or fussy.
Ensure a Warm Environment:
Keep the room warm to prevent your baby from getting cold. A room temperature of around 75°F (24°C) is ideal.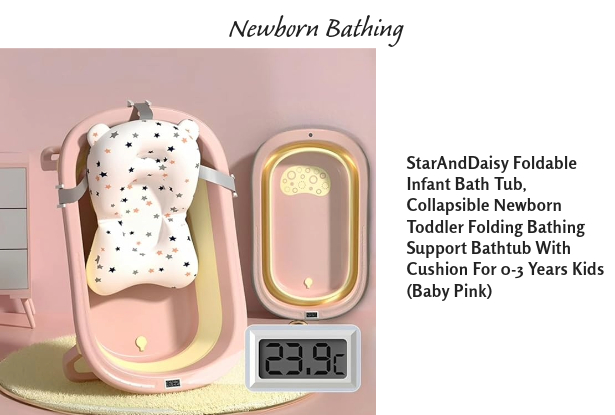 Step-by-Step Guide to Newborn Bathing:
Set Up the Bathing Area:

Fill the baby bathtub with a few inches of lukewarm water (around 100°F or 37.7°C).
Test the water temperature with your wrist or elbow to make sure it's not too hot or cold.

Undress Your Baby:

Lay a towel on a flat, soft surface like a changing table or bed.
Gently undress your baby, leaving the diaper on until the last moment to catch any surprises.

Support Your Baby:

Hold your baby's head and neck with one hand and slide the other hand under their body to support them as you lower them into the water.

Begin Bathing:

Use a soft washcloth to gently wet your baby's body, avoiding the face for now.
Apply a small amount of mild baby soap to the washcloth and gently clean their body, starting from the cleanest areas (face) and moving to the dirtier ones (bottom).

Clean the Face:

Use a damp cotton ball or cloth to clean your baby's face, especially around the eyes, ears, and mouth.

Rinse Thoroughly:

Use a clean washcloth to rinse off the soap from your baby's body. Make sure no soap residue remains.

Wash the Hair:

Use a small amount of baby shampoo to clean your baby's hair. Gently lather and rinse, taking care to avoid getting soap in their eyes.

Lift Your Baby:

Lift your baby out of the water, using the support of your hands under their head and body.

Wrap in a Towel:

Immediately wrap your baby in a hooded towel to keep them warm and dry.

Dry and Dress:

Gently pat your baby dry, paying special attention to creases like the neck, armpits, and diaper area.
Apply a gentle baby lotion if desired, but avoid overusing products, as newborn skin is sensitive.
Dress your baby in clean clothes and put on a fresh diaper.
Conclusion:
Bath time with a newborn is a priceless moment for bonding and care. If you use this step-by-step process, you can make bath time for your infant a secure, tranquil, and enjoyable experience. Keep in mind that each baby is different, so pay attention to how your youngster behaves. With experience, you'll gain confidence, and bath time will become a treasured ritual in your parenting journey.